What fun to have my own website ! On this site I'll describe myself and share my interests and ideas.
My Favorites
Favorite Band or Musician: Andrea Bocelli
Favorite TV show: Movies
Favorite movie: Heartland

Favorite book: I love all books

Favorite sports team: Williams Sisters Tennis

Favorite food: Salad
My Hobbies
I'm an artist and love reading , movies and gardening too.
I sell my art on ebay auction. My ebay ID is jazmin112-2008. Most of my work is miniature art called ACEO ( Art Cards Editions & Originals) the size is 2.5" x 3.5" . These lovely little paintings are highly collectible and can be framed, kept in an album on a coffee table or just standing alone on a tiny easel.
My larger paintings are available directly from me. I also paint commissions.
Wee Willie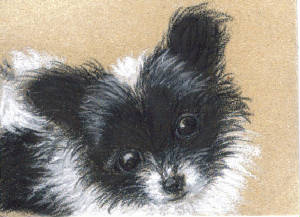 I'm 10 weeks old
little Yorkie called Princess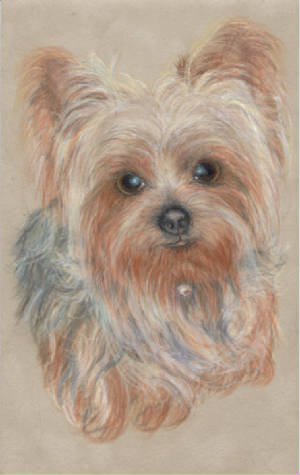 coloured pencil on suede mat board
soft white kitten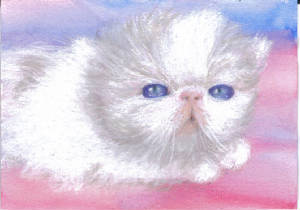 neocolor ll water soluble oil pastels SOLD
roly poly kitten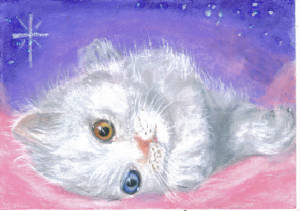 sold
fawn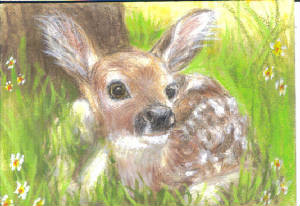 sold
sweet mimi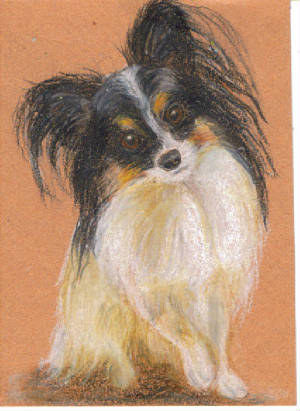 coloured pencil on sanded paper
Sandy Williams is a natural science illustrator. She paints with gouache which is excellent paint for her lovely detailed work. You may purchase her work as well as her very clear 'how to paint in gouache' dvds.from her website at www.soundofwings.com If you'd like to buy some fabulous greeting cards then go to www.behance.net/cardsbycalliope where she has a lovely selection of cards for birthdays, children and other occasions.
This is the Weberart blog. It is a great site and well worth a visit.
http://www.weberart.com/ Artist paints and materials made in America ! I use Martin/F.Weber paints. They are non-toxic and very high quality.

David Adams Online* is basically an online gallery of David Adams artworks -- paintings, jewelry, scrimshaw and crystal carvings. He offers reproductions of his work as well...prints, refrigerator magnets and bookmarks. In addition, this site offers free coloring sheets, e-cards, painting terms and tips, demonstrations and an informative newsletter.
http://www.artofwildlife.com/miniatures.html Wes and Rachelle Siegrist's miniature paintings are of the highest quality and strict standards. Their paintings are so lifelike and glow with deep feeling and love of art. I'm sure that you will be enchanted,as I am, by their marvellous paintings.
http://www.artbygriff.com/ is a professional Wildlife Artist in Cornwall England. His marvellous work is well worth viewing so just click on h is url and you'll be taken there directly.
ARC Animal Rehabilitators of the Carolinas
My art colleague Robert Sloan has a wonderful Oil Pastels website full of great tips, free art instruction, product and book reviews.
Linda Sweeney does remarkable caring work at her Forest Babies Rehab.Center.
Title: Free Art Lessons - The Art Instruction Blog Description: Free art instruction and other great resources on a variety of different mediums including oil painting, acrylic painting, watercolor, drawing, pastels and more!
AAA Animal Control. David Seeveld does wonderful work by capturing and removing wild animals from your home. He releases them into the Wild.